Description

How to use

Ingredients
For wellness all day, every day, The Duo combines our two potent AM and PM supplements: Glow With Your Gut and Rest & Digest.
This powerful pair is designed to elevate your health and wellness from morning to night, from all-day gut optimisation to stress relief, glowing skin and quality sleep. The supplements work alongside each other to create the perfect flow, elevating your body with what it specifically needs at each time of day.
Adults take two (2) capsules daily with a meal as a dietary supplement or as recommended by your physician.
GLOW WITH YOUR GUT
Vitamin A (retinyl palmitate) 900ug RAE, Vitamin C (ascorbic acid) 90mg, Vitamin D3 (cholecalciferol) 40μg, Vitamin E (d-α-TOC acetate) 15mg NE, Vitamin B3 (niacinamide) 16mg, Vitamin B9 (5-methyltetrahydrofolate) 400μg DFE, Vitamin B12 (cyanocobalamin) 2.4μg,
Zinc (as gluconate) 11mg, Selenium (selenomethionine) 15μg
AM BFW Blend
Organic Cat's Claw Extract 20X, Organic Polyphenols (from Japanese Pagoda bark), Natural Lutein (from Marigold flowers), Hyaluronic Acid, Organic Green Tea Extract 20X, Organic Snow Mushroom Extract, Coenzyme Q10 (Ubiquinone), Wildcrafted Pearl Powder, Piperine (from Black Pepper Fruit), Natural Ceramides (from rice), Natural Lycopene (from Tomatoes), Organic Astaxanthin (from Haematococcus pluvialis)
AM Synbiotic Blend
Fructo-oligosaccharides (FOS from Jerusalem Artichoke), Xylo-oligosaccharides (from Corn), CoreBiome® Tributyrin Streptococcus thermophilus, Lactobacillus plantarum, Lactobacillus johnsonii
Other ingredients
Hypromellose (vegetarian capsule), Organic Nu-Flow® Rice Hull
Concentrate
REST & DIGEST
Vitamin B6 (Pyridoxal-5-Phosphate ) 1.7mg, Vitamin B12 (Cyanocobalamin) 2.4μg, Magnesium (as oxide) 105mg, Gamma Amino Butyric Acid (GABA) 100mg, L-Theanine (from Green Tea) 100mg, L-Tryptophan (fermentation) 100mg
Organic Rest & Restore Blend
Organic Papaya Fruit Extract, Organic Chamomile Flower Extract, Organic Valerian Root Extract, Organic Holy Basil Flower Extract, Organic Passion Flower Extract, Organic Tart Cherry Extract, Piperine (from Black Pepper fruit)
PM Enzymatic Digestive Blend
Bromelain 200,000 U/g (from Pineapples), Papain 200,000 U/g (from Papaya), Alpha-amylase 30,000 U/gm (from Aspergillus oryzae), Beta-amylase 700,000 U/gm (fermented), Cellulase 11000 u/g (from Aspergillus niger), Lactase 100,000 ALU/gm (from yeast), Lipase 120,000 U/gm (from Aspergillus niger), Pectinase 30,000U/gm (from Rhizopus fungi), Neutral Protease 50,000 U/gm (from Bacillus subtilis)
Other ingredients
Hypromellose (vegetarian capsule), Organic Nu-Flow® Rice Hull
Concentrate
Supports skin hydration, clarity and elasticity
Minimises fine lines and encourages collagen production
Reduces bloating and discomfort by supporting optimal digestion
Supports deep, restful sleep
Reduces anxiety and stress for balanced cortisol levels
*These statements have not been evaluated by the Food and Drug Administration. This product is not intended to diagnose, treat, cure or prevent any disease.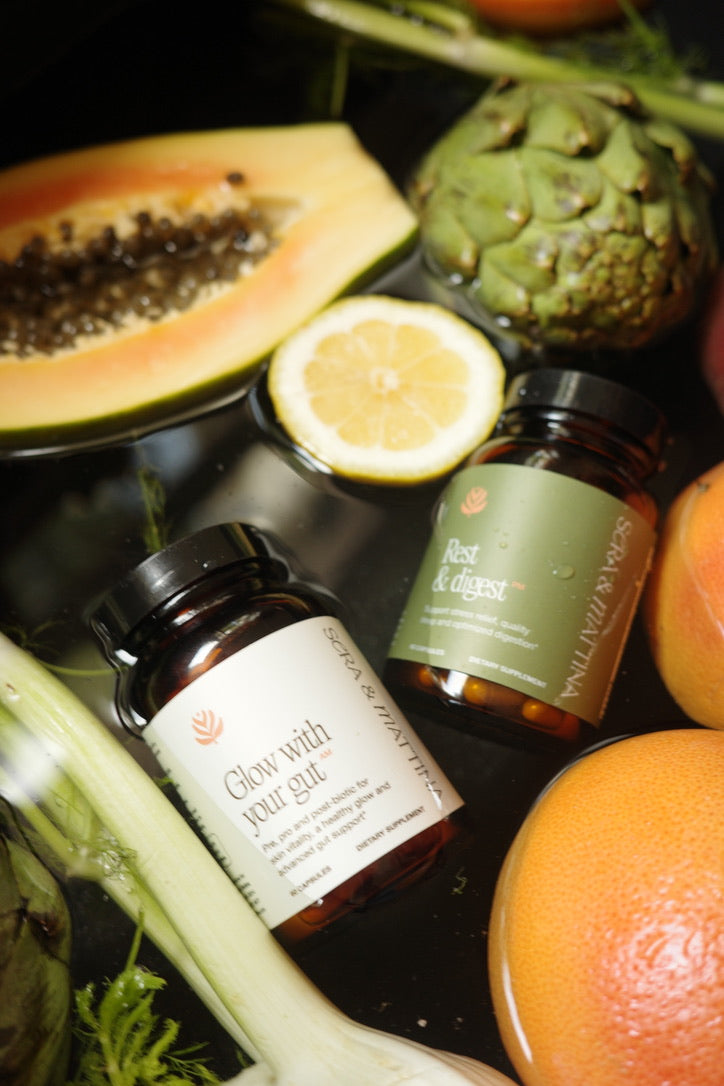 All-day wellness
The dynamic duo
From morning to evening, we've got you covered. Our AM and PM supplements support gut health, glowing skin, stress levels, and restful sleep - so you can be well everyday.
Glow With Your Gut
Glowing skin starts from within, which is why we've created the ultimate edible skincare blend. Crafted with a potent blend of skin-boosting vitamins and gut-loving extracts, Glow With Your Gut is the perfect way to start your day. Our blend includes potent ingredients such as organic cat's claw, astaxanthin and hyaluronic acid for hydration, skin elasticity and smoother skin. To set your gut up for the day ahead, we've included a powerful trifecta of pre, pro and post-biotics to support your gut flora and microbiome.
Rest & Digest
Upgrade your evening ritual with our peaceful PM supplement. We've created Rest & Digest to support your body as it unwinds for the day, assisting with optimal digestion, stress relief and high quality sleep. Featuring a digestive enzymatic blend and soothing ingredients such as L-theanine and passion flower, it's the perfect modern nightcap to encourage a calm and restful state - because a great day starts the night before.